Water Damage in Staten Island
Weather Alert: If you are experiencing weather-related damage from the storm, call us today for emergency assistance!
911 Restoration of Staten Island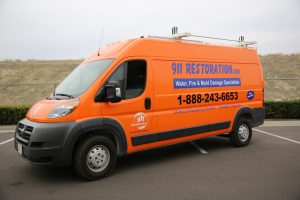 Property damage can come in many forms. All of them are potentially devastating to property owners. However, one of the most common is water damage. Whether it's a burst pipe causing immediate flooding or a small ceiling leak that results in a buildup of damage over time the impact to your property is undeniable. 
While water damage may come from multiple directions, one thing always remains true. When left unchecked for too long, the water damage can result in mold contamination. It only takes 24 hours for your situation to become more troublesome for this reason. The damper the environment, the greater your risk of needing mold remediation.
At 911 Restoration of Staten Island, we offer a Fresh Start with our comprehensive selection of property damage restoration services, including but not limited to:
24/7/365 availability

Same-day service

45 minute response time
Whether you're a Staten Island homeowner or business owner, 911 Restoration of Staten Island is your Fresh Start! We'll communicate with you throughout the entire process, help answer questions related to insurance, and restore your property to its pre-damaged condition. One of our IICRC-certified teams is dispatched within 45 minutes of your call! Contact us today, and one of our friendly representatives will assist you in finding the nearest Staten Island location.
Service area map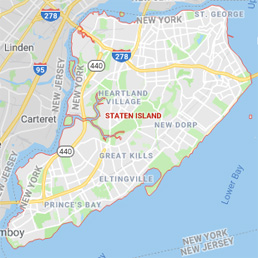 Carrie Speiser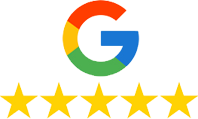 "911 Restoration helped me when mold was found in my house I was selling. They came in and took care of everything! Great work. Thanks again!"
Water Damage Restoration
Our water damage restoration team in Staten Island is ready to remediate any disaster that comes your way. Before we unpack any piece of equipment, we always begin with a visual inspection upon arrival. With a visual inspection, we can determine the extent of your water damage along with the necessary repairs needed to restore the property to good as new. Once the estimate and action plan has been approved, we begin working on your basement water damage cleanup.
We refuse to accept anything less than the best results, which is why we only use the latest water extraction equipment and commercial dryers. Doing this ensures that your property is dried out completely. In addition, we also happily assist our customers with their insurance claims.
Call 911 Restoration promptly, so we can take care of your water damage in Staten Island. 
Sanitization Services & Disinfection Solutions
Are you unsure how to handle the spread of the coronavirus in Staten Island? If so, you are not alone. Many people are not sure what to do in the face of this global pandemic. The experts offer guidance about ways you can help slow the spread of the virus. It's recommended that you self-isolate as much as possible and maintain a careful distance from others if you must go out. You may also want to focus on sanitizing your property as the virus continues to spread.
911 Restoration of Staten Island is standing by to offer you disinfection solutions. Our IICRC-certified crews are highly trained and prepared to handle sanitization services for your home or businesses. We follow the most up-to-date recommendations issued by the CDC and EPA. You can contact us around the clock if you need sanitization services for a business deemed essential by the state. We're also here to help if your business was closed to prevent the spread of the coronavirus. Reach out to us today to learn more.
Frozen Pipes and Flooded Basements
Changing seasons are usually troublesome thanks to the different things owners need to be aware of. Summer has different requirements than winter and the possible types of property damage are a reflection of that. In winter, extreme cold is a very real occurrence, and cause frozen conditions. This means those pipes you rely on to move water through your property are at risk. This problem is known as frozen pipes and when they stay frozen long enough, they can burst. Pipe bursts are actually pretty common, and is the usual culprit when it comes to flooded basements.
Pipe bursts equal instant flooding. When this occurs, you need flood restoration otherwise you run the risk of needing mold remediation as well. This is necessary because of the sheer amount of water along with the high contamination present with pipe water. That's why you need flood cleanup specialists to take care of your water extraction. A fast response can be the difference between difficult or easy water damage restoration.
If you're suffering from frozen or burst pipes, call 911 Restoration immediately to tackle your water flood cleanup. We'll be there quickly to deliver on our Fresh Start guarantee.
Mold Removal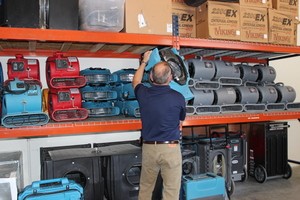 Mold only needs a damp and/or dark environment to begin growing. To make matters worse, it only needs 24 hours to really get going. The longer it's left alone, the more likely the mold is to spread to other areas of the property. With mold, you suffer property damage from organic items being eaten away and health issues such as headaches and nausea.
Regular cleaning efforts are ineffective, which is why use industrial-strength cleaners and detergents to remove the mold after containment is achieved. Our goal is to safely remove the mold and prevent it from reoccurring.
Call 911 Restoration immediately to investigate if you suspect mold. We'll deliver the Fresh Start you need to breathe easy.
Sewage Backup and Cleanup
Sometimes, water damage is actually sewage backup. This is a result of the city's sewer system experiencing a buildup of pressure. This is a serious situation that demands certified professionals to handle your sewage cleanup. Raw waste is classified as a class three hazardous material. When we arrive on the scene, our techs wear protective hazmat gear before we start on the sewage cleanup process. 
If you've had a sewage backup, call 911 Restoration to handle your sewage cleanup in basement and water restoration. You can count us to deliver a Fresh Start.
Fire and Smoke Damage Restoration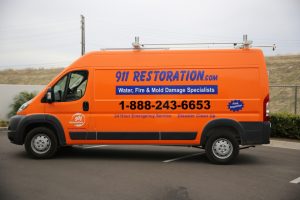 Fire damage is destructive and leaves behind lingering damage long after the fire is put out. While the fire department will respond quickly, it will never be fast enough to prevent the need for fire damage restoration. The process is complex and requires addressing numerous issues across primary, secondary, and tertiary damage levels. The fire leaves behind scorch marks, smoke odor, soot, and ashes. In fact, it requires water or water-based solutions to be put out, which leads to water damage. This water damage can lead to mold if not remediated quickly enough.
If you've suffered a water and fire restoration Staten Island ny, call 911 Restoration today to get professional help with your fire and smoke damage restoration. Get the Fresh Start you need.
Disaster Restoration
At 911 Restoration, we understand that disasters can happen anytime day or night. For that reason, we are prepared to respond immediately after your call. Whether it's a storm, flood, or fire we are fully trained and prepared to handle your disaster restoration.
With us, everything from property restoration to the insurance process is handled. That's because we believe that the disaster restoration process should be as smooth as possible, which is our aim every time. If you've suffered a disaster, call 911 Restoration today so we can get started on your disaster restoration. Your Fresh Start is right around the corner.
Commercial Restoration
Damage to your commercial property not only harms the building itself, but it can also harm your bottom line. Regardless of the damage whether its water damage, sewage backup, mold development, or even needing fire damage restoration you run the real risk of needing to close the business or property until the damage is repaired. When this occurs, the amount of money you stand to lose grows every day.
Call 911 Restoration for all of your commercial restoration needs. Get the Fresh Start you need to start over in Staten Island.
Serving the communities of Arden Heights, Bay Terrace, Eltingville, Great Kills, Midland Beach, New Dorp, Princess Bay, Staten Island, St. George and surrounding area.