Mold Removal in Staten Island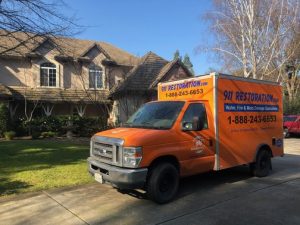 The most frustrating type of property damage that owners face is undoubtedly a mold infestation. The reason? Save for extreme circumstances, it grows slowly up over time and eats away at the organic materials on the property while causing health issues in otherwise healthy people. Materials such as sheetrock, carpet, wood, furniture, and other similar items are all susceptible to the ravages of mold. In addition, breathing issues, headaches, and nausea are just some of the symptoms that affect any residents unlucky enough to be close to mold contamination.
The good news is that mold is easy to stay on top of once you become aware of the signs. While mold remediation will still be needed, the impact on your property and health is reduced significantly. The most common indicators of mold include:
Rotted wood

Crumbling drywall

Visible mold

Breathing problems

Headaches

And more
We get it. It's tempting to clean and remove the mold yourself. When you notice a problem, you want to fix it immediately. However, with mold this is the last thing you should do. This is because normal cleaning methods and cleaners are ineffective against mold. Instead, the only thing that happens is agitated mold spores that can become airborne. Once this occurs, you can expect the mold to form new colonies in other locations on the property. For this reason alone, it pays to seek professional mold removal services when mold infects your property.
Mold can be discovered at any time. At 911 Restoration, we know and remain prepared for that. That's why we are available 24/7/365 for everything from simple mold inspection to full mold decontamination and mold remediation. We guarantee our arrival within 45 minutes of your call for providing you mold removal service in the Staten Island area.
As soon as you suspect mold, call 911 Restoration of Staten Island. We have every aspect of your mold remediation well in hand. With us, you'll get a Fresh Start you can count on. Call us at (718) 215-9481 and please allow us to offer you a free visual inspection.
Mold Removal Companies
When discovering mold you need mold removal companies that know every aspect of the mold remediation process. At 911 Restoration, we have combined our years of experience with ongoing training to deliver a truly honed and perfected mold removal process to mold remediation business in Staten Island The secret to our success starts with us performing a visual mold inspection. This helps us determine where the mold exists, how far the contamination spreads, where the water damage is located, and what repairs will be needed.
We can't get started on the mold removal until we accomplish containment. The mold needs to be kept from spreading, which is why we use the latest containment measures such as vapor barriers to achieve this objective. After we contain the mold, we can proceed to mold decontamination. With mold, nothing less than industrial strength cleaners and detergents will get the job done. This step neutralizes the mold spores, which in turn, prevents the mold spores from being able to remain and keep spreading.
For our last step in the process, we can finally perform the necessary mold removal to finish the job. During this part of the process, our technicians also address the source of your water damage Staten Island and perform any necessary repairs to restore the property to good as new.
Call 911 Restoration immediately if you suspect or notice mold on the property. Our mold remediation specialists in Staten Island are IICRC certified and ready to assist you with every aspect of the mold remediation process. Whether you need a mold inspection or mold decontamination you can count on us for the Fresh Start you need to breathe easier. Call 911 Restoration near me at (718) 215-9481, We provide you mold damage restoration in Staten Island.
Mold in Basement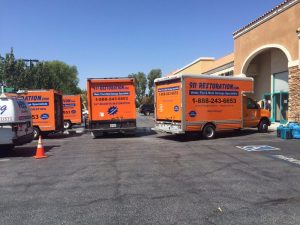 In exceptionally dark rooms such as the basement, the mold can be on a different level than normal. This different level is when the mold has become toxic. In addition to extreme darkness, contaminated water can also cause toxic mold. This is why mold in the basement is so common and potentially hazardous to property owners in Staten Island. Of the many types of toxic mold, black mold is the most dangerous. Besides hurting your property, it can cause organ shutdown and even death for the residents within the property.
That's why we use a two-step mold decontamination process when toxic mold is suspected or confirmed. This is necessary to kill the mold spores and sanitize the area. The first step is performed before the mold removal process is started. Once the mold removal is completed, we will perform the second mold decontamination to ensure that nothing is missed. We take your health and wellbeing seriously, which is why we accept nothing less than a full effort.
Everything from mold decontamination to mold removal is taken care of when you call 911 Restoration. Breathe easier by working with us to get the Fresh Start you deserve. Call us at (718) 215-9481 and learn how we can help.
Serving the communities of Arden Heights, Bay Terrace, Eltingville, Great Kills, Midland Beach, New Dorp, Princess Bay, Staten Island, St. George and surrounding area.