Water Damage in Staten Island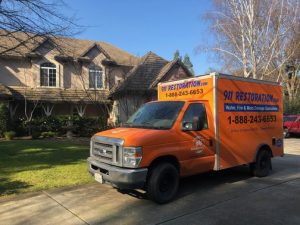 Water damage is one of the most common types of property damage that owners face in Staten Island. Whether it's a leaking faucet, ruptured appliance hose or something more severe such as a pipe burst, the truth is that water damage restoration is needed to restore the property to good as new. Our technicians at 911 Restoration of Staten Island have honed their craft over a number of years to ensure they are prepared for any type of water damage emergency they face.
Every single one of the technicians at 911 Restoration Utah is IICRC certified and use nothing but the latest techniques and equipment to handle your water damage restoration from start to finish. We work promptly to ensure that the house gets completely dried out before additional complications such as a mold develop. A failure to act quickly can cause owners to need mold remediation services as well.
We take the time to understand your needs and provide you peace of mind through results as well as walking you through our water damage restoration process. If we have to perform mold removal services, you will be informed of why and what will be done to ensure a repeat occurrence will not occur. These tasks and more is part of our effort to deliver a smooth and stress-free emergency restoration to our customers in Staten Island.
With 911 Restoration, you can trust in our technicians to deliver results that matter whether you need simple water damage restoration, mold remediation Staten Island, or even flood cleanup. Call today for a Fresh Start that begins within 45 minutes of your call.
Water Damage Emergency
When it comes to a water damage emergency, there are two truths that never change. Number one is that it needs to be handled promptly. The longer you wait, the more likely you are to need mold remediation. Number two is that it needs to be performed correctly the first time. By not addressing the underlying problems, you can face repeat water damage or mold contamination. To ensure that we're successful in this matter we use a process that has been perfected thanks to our ongoing training and years of experience.
No matter what, we start with a visual inspection upon arrival. Without this step, we are unable to determine the source of the water damage, the extent of the damage, if additional problems are present, and what will be needed to complete the repairs. Once the inspection is complete, we can deliver an estimate and action plan for your approval. After approval, it's time for our technicians to get to work.
The main focus is on getting the property completely dried out. We accomplish this by using our water extraction equipment and commercial dryers. Focusing on this first helps us make sure that mold can't develop. It only takes as little as 24 hours for any moisture to begin producing mold rapidly. After we double check our work with infrared cameras, we can proceed to perform the necessary repairs to restore the property to good as new.
If you are suffering from water damage or suspect mold infestation, don't wait to call the technicians at 911 Restoration. Our technicians are experts at mold remediation as well as water damage restoration and are happy to assist our Staten Island residents. Call today to begin heading to a Fresh Start.
Flood Cleanup Company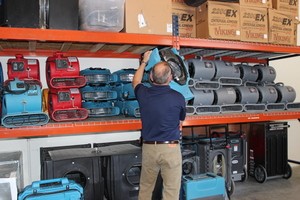 The largest situation with water damage in Staten Island is when flood cleanup is needed. Sometimes, larger problems like a pipe burst occur, which is why a flooded basement is more common than anyone would like. Water from pipes is often contaminated with a range of materials that include dirt and even raw waste depending on the pipe that bursts. In addition to a contaminated area, excess water also damages the flooring, walls, furniture, and anything else the water comes into contact with.
To combat the contaminated water we use both decontamination and mold decontamination to eliminate all traces of bacteria and mold present within the affected area. Once the affected area is sanitized, we can begin working on water extraction and drying along with performing any needed repairs to get back to good as new.
If you find yourself in need of flood cleanup services near me, don't wait to call our technicians at 911 Restoration. We will take care of every aspect of your water damage restoration, while preventing the need for mold remediation. Call today to get started on the Fresh Start you need to begin anew.
Serving the communities of Arden Heights, Bay Terrace, Eltingville, Great Kills, Midland Beach, New Dorp, Princess Bay, Staten Island, St. George and surrounding area.